Logging into the CRM, a pang of guilt washes over me. "You shouldn't be spying on them," an inner voice whispers. "But I'm just checking on their progress for my own reporting purposes," I reply, perhaps a tad defensively.
I open a lead record. I scroll down to the sales activities – and not a single activity logged. I assigned this lead last week. What, are they just playing video games all day???
"I have a million things going on," Jamie says. "I can't keep track of all your leads. Why were you spying on me anyway?"
"It was for my own reporting purposes," I say, glancing away from my camera. "But don't worry, I have some ideas to help save you time."
"Please! I'm all for it."
And…scene.
So, why should I care about sales automation?
Sales automation encompasses multiple features in marketing automation and CRM systems designed to streamline repetitive administrative tasks (read: booo-ring) and facilitate the sales process. This allows the sales team to dedicate more time to one-to-one interactions while ensuring that the rest of your leads aren't forgotten in the doldrums of the CRM.
Occasionally, these helpful solutions aren't technically automated – like creating an email template for the sales team to use for initial outreach. But in plenty of other cases, like sending an onboarding email series to new customers, automation is at work.
IMO, a better name might be "sales admin support using software" or "help us marketing folks help you". But, for some reason, those haven't caught on.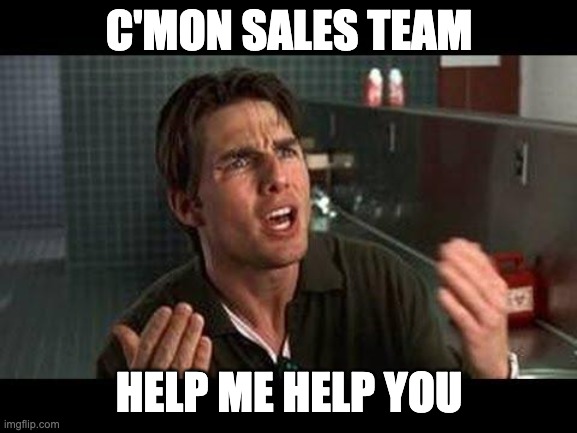 1. Streamlining lead assignments for everyone
Lead assignment is often the first step in the sales process. Determining who a lead gets assigned to can be based on geographic area, company size, industry, product interest or some other criteria. Your assignment criteria can be built into a workflow in your marketing automation platform or configured in your CRM.
Building assignment rules in the CRM may be the better option. Sometimes, sales teams create leads directly in the CRM, bypassing the marketing tool. Assignment rules built into the CRM can then apply globally, encompassing leads created directly in the CRM as well as those syncing over from the marketing platform.
To help ensure a quick follow-up, you can trigger a notification for the sales rep and assign a task in the CRM. These steps can be automated through a workflow in the marketing system.
For example, if you're using Pardot, you could set completion actions on your Contact form to use Salesforce active assignment rules, notify the assigned user and create a task in the CRM.
In HubSpot, you can use Workflows to assign a task after someone submits a form. A notification for the rep can be included in your Workflow or added directly to your form.
Protip: Round-robin assignments

Sharing the love is appreciated when assigning leads! Round-robin assignment ensures leads are equally distributed to each member of the sales team. In HubSpot, this can be accomplished by adding the Rotate [Object] to Owner action in a workflow. In Pardot, you can create a group of users and assign folks to that group. Pardot will evenly assign Prospects to users within the group.
2. Crafting snazzy email templates for the sales team
While waiting for Jamie to join the call, I notice how the lighting from my vintage desk lamp lends an orange glow to my face. He comes on, sipping coffee from a mug with a picture of his kids emblazoned on the side.
"I built out some email templates for you," I say. "When a lead asks for a case study, you have a follow-up email pretty much ready to go. You can just personalize it a bit with their info."
"That's helpful," he says. "Can we adjust the signature? The logo looks a bit small. And the font. Can we fix that? It looks small, too."
Sigh. Always with the unsolicited feedback on my emails! "Yes, I'll update."
Email templates can reduce the time dedicated to writing emails while also bringing more consistent messaging to your sales process. If your typical sales goal is to schedule a demo, you can build a template listing the benefits of a demo with a CTA to book a time on the rep's calendar.
This helps facilitate a standardized approach while incorporating key talking points into each email. Other templates might provide reps with a quick response to a lead's request for a case study or quick access to links to thought leadership pieces including videos and whitepapers.
In Hubspot, email templates can be set up within the Templates feature in HubSpot Sales. In Pardot, you can use the Send Pardot Email button or Salesforce Engage. Note that Engage comes at an additional cost (not the most exciting news).
3. Finding a time to meet
A meeting scheduler takes the back-and-forth out of scheduling. You might have encountered one of these recently. A salesperson reaches out and says, "You can just book a time on my calendar." But will they really be available at that time?
Scheduling apps sync with the sales reps' Google or Outlook calendar, staying updated with their availability. In your email template inviting leads to schedule a demo, your call-to-action could link to a calendar page listing all available times for that rep. Once scheduled, the new meeting automatically appears on the rep's calendar.
Protip: Things to consider when evaluating schedulers

There are several meeting scheduler apps out there. (What would my great-grandparents have made of such a statement?) HubSpot offers a meeting scheduler for HubSpot CRM users at no additional cost. Other providers include Calendly, ScheduleOnce, and CalendarHero, among others.

Meeting apps can integrate with your CRM, allowing meeting details to sync to lead records. The integration can automatically generate tasks for sales users when a meeting is scheduled. Connecting a scheduler with your CRM can help with keeping track of meeting history.
4. Knowing where people are in the sales process
Jamie and I first met a few months ago to talk through our sales process. Now I'm clicking through records in the CRM (it's NOT spying!), to see how many leads are currently marked as Engaged.
But they all have the same status: Assigned. Now, I know I spent hours creating a new sales process with each step neatly defined. I even created a flowchart with arrows and colorful boxes. Why is my dog the only one who listens to me????
Many organizations create a step-by-step sales process with stages like MQL (marketing-qualified lead) and SQL (sales-qualified lead). These stages are often tracked in the CRM. As leads progress from one stage to the next, a field is updated on their record.
You can use automation to change a lead's status or stage. When assigning leads through a workflow in your marketing automation platform, you could add a step to change the lead status to MQL.
Other examples include updating the status to Demo Scheduled once a meeting is booked through the scheduler app or progressing the lead to SQL once an opportunity is created. These automations may need to be set up by a CRM admin (an email to the admin at your company, or a meeting scheduled through your meeting scheduler may be in order).
Protip: Other data entry tasks could be made easier

Automation can be used for data entry as well. An automation could be configured to copy the address from a contact to its associated account. In Salesforce, contacts need to be linked to opportunities to attribute revenue to marketing campaigns. Once a contact is added to the opportunity through the contact roles, campaign attribution can occur. There are several ways to consistently populate contact roles.
5. Making customer onboarding delightful
When someone becomes a customer, they may be unsure about how to best utilize your product. An onboarding series builds a smooth transition. Onboarding emails can provide ebooks or tutorials, introduce account managers or support options, offer links to FAQs, and more.
Your email series could begin when an opportunity is marked "closed won" or when "Account Type" changes to "Customer". If your customers make multiple purchases, you may want to build your program to ensure the series starts only for first-time clients.
In Pardot, you can set up your emails in Engagement Studio. In HubSpot, you can configure the series in the Workflows tool or through the Sequences tool in HubSpot Sales.
Protip: Other uses for email series

I've also seen automated email series used for facilitating renewals and following up with lost opportunities. A renewal workflow could include a reminder for the account manager to follow up. Some renewals involve multiple emails that stay the same each renewal period. Using a series allows personal check-ins by the sales rep to be less focused on process-related tasks.
After a few months of using the renewal series and email templates, Jamie sends me a thank you gift. I peel back the packing tape on the cardboard box. Inside, there's a yoga block and a pair of binoculars with a tag that says, "special agent approved."
I write an email expressing my thanks. "Hey, that was really thoughtful."
"Of course," he writes. "You helped me, maybe I can help you. I have some ideas for email designs. They're pretty sleek."
"Oh good, send them over," I reply, silently rolling my eyes.