HubSpot CRM Review: Top Takeaways
What's awesome:
HubSpot was started in 2006 by founders Dharmesh Shah and Brian Halligan in the halls of MIT's Sloan Business School. They shared an interest in helping SMBs with marketing and sales and, from those humble-ish beginnings, have grown HubSpot into more than $1B in annual revenue.
HubSpot will forever be synonymous with Inbound Marketing, and you can read our review of the Marketing Hub here.
The HubSpot CRM, called Sales Hub, came on to the scene in 2014 as a free add-on to the already-famous marketing platform. In the years since, HubSpot has developed the CRM immensely, focusing on productivity, integration with marketing tools and ease of use.
The Sales Hub has a vast feature set that most sales reps love and are even willing to adopt. Thanks to the intuitive nature of the tools and the outstanding support and training provided by HubSpot, onboarding and setup can be fast. Unlike Salesforce or other enterprise CRMs, Sales Hub does not require a developer or expert consultant to implement.
*For full disclosure, I worked for a couple of years as an Implementation Specialist at HubSpot to onboard Marketing and Sales Hub customers.
What kind of sucks:
While HubSpot has recently added new enterprise-level features like custom data objects and role-based permissions, the enterprise-level subscription is still not as customizable or flexible as competitor enterprise-level CRMs. For companies looking for extreme customizability and complexity from their CRM, Sales Hub is probably not a good fit. The new enterprise-level features really just give existing customers a longer runway before they grow out of Sales Hub.
Sales Hub still plays second fiddle when comparing the HubSpot product suite. Some companies have adopted Sales Hub and don't use HubSpot for their marketing, but Sales Hub is best leveraged when paired with Marketing Hub. It's pretty uncommon to use HubSpot CRM and combine it with a competitor marketing automation platform (MAP) like Marketo. Because the Marketing Hub is usually paired with their CRM, you may be cutting your own trail if you choose a different combination and struggle to find documentation and support for your stack.
If you're coming from a SalesForce shop to HubSpot, you'll need to take a moment to familiarize yourself with leads vs. contacts in HubSpot. Unlike SFDC, there are no leads or converting leads into contacts and accounts. Instead, a contact is always a contact. This fundamental architectural difference will impact reporting and can be a hang-up for people who have finally figured out their lead attribution model in SalesForce.
My Two Cents: Great for HubSpot Marketing Customers
If I were evaluating Sales Hub from HubSpot and not considering their marketing tool, I would probably go for a different solution. There is a ton of synergy when pairing HubSpot's Sales and Marketing Hubs. It would take a lot of effort to re-create that if integrating with a different MAP.
On the flip side, if you buy the Marketing Hub and hate your CRM or need to upgrade, the Sales Hub is an excellent solution.
Easy like Sunday morning? HubSpot CRM Ease-of-use
The good: Easy to learn and good for sales adoption
The best way to ruin any CRM implementation is for the sales team to fail to adopt it. It doesn't matter what great features a platform has if the reps refuse to use them. Luckily, the Sales Hub's feature set and simple UX makes getting sales adoption as easy as possible.
I once held an hour-long training with a sales rep who was adamant that their sticky-note system of opportunity tracking was more than sufficient, and that they couldn't learn new software. But, after walking through the prospecting and pipeline management features, the rep was actually eager to get into it.
Obviously, this is just one anecdote with no data to back it up. But it really happened, and it shows how the tool gets sales teams excited about doing the things we need them to do to get the value out of our CRM.
The good: Packed with useful features
The Sales Hub has great automated features that minimize tedious work and add lots of value. For example, company records will automatically look up the business email domain and pull in publicly-available information, like company size and revenue.
Also, there's a Vidyard integration where you can do cool things like record yourself explaining a quote, for example. You can then attach it to a sales email and send it all from the platform. Then, Sales Hub will automatically link it to the contact and deal records. Sweet!
At the Pro level and above, you can set up and view Target Accounts to support ABM campaigns. This type of "target" designation isn't typically available in most CRMs, and it's a pretty nice feature to have baked right in.
My personal favorite is that, when making calls from Sales Hub, it will automatically record the call (depending on the laws of the contact's home state) and create a transcript of the video and then save it to the contact record so you can easily find it.
Wow, we really are living in the future.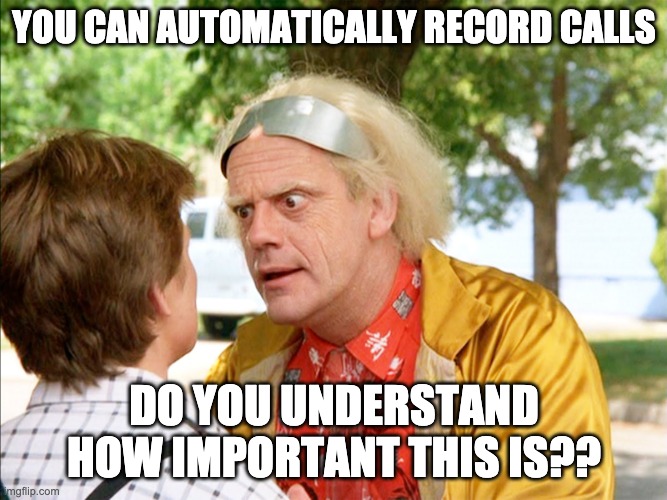 The good: Consultants and admins not required
It never hurts to have expert guidance when building out a new software platform, especially software as vital to your success as your CRM. But it's not always in everyone's budget to pay for a consultant, developer, and/or certified admin to implement a CRM.
The Sales Hub does not require that level of technical expertise to successfully implement and extract its full value. HubSpot has done an excellent job of building processes into the tool so you can immediately get to work after only making slight adjustments for your business needs, in most cases.
The good: Training and support
HubSpot has an award-winning support team available 24/7, and a US-based support team staffed from 7-8 pm EST Monday through Friday. You need a paid subscription to get access to phone support, and it's worth it. The support team is actually the best.
The Hubspot Academy is a fantastic resource and has a massive amount of content for HubSpot customers. The content ranges from topic-specific videos and lessons on best practices to full software certification courses for all products.
What's nice is you can almost always find the level of training support you need in the Academy. HubSpot even offers in-person weeklong training sessions so you can pepper the training team with all your burning questions.
The not-so-good: It's not Salesforce
That may not necessarily be a bad thing to all people. But if you're looking at the CRM and comparing it to what you can do with Salesforce, you're gonna have a bad day. As I mentioned earlier, HubSpot has always targeted SMBs and has lately been swimming upstream a little to build an offering for larger enterprises. As a result, Sales Hub is a less customizable and less flexible CRM than Salesforce.
Fun fact: Salesforce invested in HubSpot in 2011 as part of their series D round of funding. Now that Salesforce has expanded into the marketing automation space and HubSpot has its own CRM offering, they may be a little like frenemies…but probably not.
The not-so-good: Custom Objects require Enterprise subscription
If you don't know what a custom object is, count yourself lucky. If you do, you probably have had many challenging conversations about data structure and one-to-many relationships. Just as with any hard-to-define relationships, CDOs are a sometimes-necessary, often-complicated proposition.
Custom Data Objects (CDOs) are often required for complex business processes that need to record multiple touchpoints with customers and prospects. They are a huge feature in enterprise-level marketing automation software like Eloqua, but were completely absent from HubSpot until recently.
The Sales Hub enterprise-level trim includes CDOs to cater to larger and more complex customer needs, but it is a helpful feature that almost anyone could leverage. For example, if you regularly hold webinars, you could store webinar attendee information in a CDO table to give detailed data on who attended and for how long. Without, you're forced to keep a messy multi-select picklist field with webinars attended on the contact record, or other such unsavory workarounds. It's too bad they don't include this feature for all subscriptions.
The not-so-good: limited customization
I've already mentioned it, but it's worth mentioning it directly. Sales Hub is less flexible than other CRMs on the market. For example, "Lifecycle Stage" is a default field in HubSpot contacts and accounts that powers reporting and automation. Unfortunately, you cannot edit or re-label it. You can try to hide it to some degree, but not using this field means that a lot of the automation built into HubSpot gets wonky if you ignore it.
Another example is that the contact and company records allow only limited interface editing. The basic layout of each object is relatively static. You can only edit which fields display in the static sidebar or creation windows. The ability to iFrame a window from another tool is way out of the question here.
And if you have lots of duplicate records (a marketer's nightmare), de-duplicating in HubSpot is a manual process that's kind of a PITA. Same goes for trying to set parent-child relationships across accounts. That can't be handled during an account list upload; it needs to be done one by one.
Start me up: Getting started with Sales Hub HubSpot CRM
Getting started with Sales Hub is relatively easy. You will not need a CRM developer, and in most cases, you won't need to hire an expert admin to implement successfully. The typical implementation consists of defining custom fields and deal stages and building automation rules for routing and notifications.
Once done, most companies import their contact database, hold team training, and then are off to the races. Typical implementation takes less than three months, and often it takes significantly less than that.
A little help from my friends: Support & training
When you purchase Sales Hub, you'll be assigned an implementation specialist to help guide you through setup. Onboarding lasts either 60 or 90 days from purchase, depending on your subscription level, and provides significant value to help you get up to speed quickly and correctly. If you purchase through one of HubSpot's agency channel partners, they will manage your setup process.
If your team needs extra support like multiple calls a week with a dedicated resource, professional services are available directly through HubSpot. They are incredibly knowledgeable and an excellent alternative to hiring a consulting firm.
Once again, the support team is excellent, and the HubSpot Academy and knowledge base are top-notch as well. HubSpot takes it seriously to provide excellent support, and it shows.
What's it gonna run me?: HubSpot CRM costs
For the most accurate information, it's best to go straight to the source: https://legal.hubspot.com/hubspot-product-and-services-catalog
Sales Hub is available in 4 tiers:
Free – Just the basics of contact, company, and deal records
Starter – Adds simple automation, chat/conversation routines and rep performance reporting
Professional (most popular) – Adds deal, task, lead routing automation, sequences and custom reporting
Enterprise – Adds custom objects, predictive lead scoring and recurring revenue tracking