Having to choose martech (marketing technology) for your company can feel…well, like a lot. There are so many solutions on the market (with more rolling out all the time), and a lot of overlap among them. How are you supposed to know how to build the right marketing tech stack, one that fits your budget and your needs without breaking the bank?
We've gathered insight from marketers who use martech every day to help you understand what's important.
Martech isn't an "easy button"
Anyone can learn any technology, but the tech is only as good as the processes behind it. The hardest part of building a marketing tech stack is figuring out how it will all be used. Start by defining your marketing goals, then determine how to use tech to deliver them.
And that's where things get sticky. Often, some head of marketing rushes to roll out a solution without taking the time to plan the best way to actually use it. They run into the same challenges we've all seen: the tech doesn't deliver what was expected, people stop using it, the data goes out of date (causing even more people to stop using it), and it ends up a mess that gets abandoned.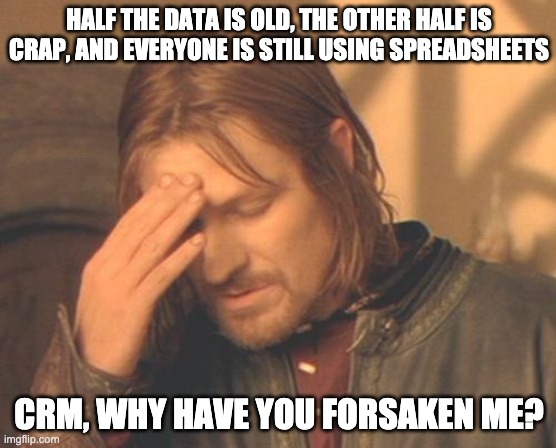 "If you think good design is expensive, you should look at the cost of bad design," Dr. Ralf Speth.
How do you avoid the tech death spiral? It takes some strategy to choose martech. But don't worry, we're here to help.
Step 1: Get brutally honest about your needs
Technological maturity: I get it, change can be hard. Think about where your organization really is today, from "it's all spreadsheets" to "we have an app for that." Is your team excited about technology, or is Frank from sales still insisting he has everything in his Rolodex? This will determine the level of support (training, onboarding, technical) you need.
Features & tools: Figure out the bare minimum you need to actually do (reporting, email marketing, CRM, web analytics, etc.).Then define "nice to have" features and any you definitely don't want or need.
Budget: There might be a number you need to hit, or you might be trying to define one without any real sense of what it "should" be. Martech is one area where you pretty much get what you pay for. You can dip a toe in with some simple automation for as low as $150/month, or you can build an enterprise-level engine that runs up to $10k/month. Either way, your budget, goals and needs will decide the technologies you should consider.
Company size: Some solutions are designed for small, scrappy businesses while others are Cadillacs perfect for large enterprises with lots of organizational complexity. You know which one you are.
Users: Determine who (departments and roles) will use the software, and how many users you'll have. Some charge by the user seat.
Integrations: List the other tech you're using (check out this diagram if you're feeling stuck), and decide which ones need to integrate (share data) with your marketing technology, which would be nice but aren't necessary, and which have no need to connect.
Contact database size: Collect your customer and lead contact info (it might be scattered across older technologies, spreadsheets, or Frank's inbox) and get an accurate count. Some technologies charge by how many contacts you have.
Expected contact growth: If you're looking at a solution that charges by the contact, you'll want to know how many contacts you plan (or hope) to add, so you can budget accordingly.
Step 2: Host a tech face-off
Tools & features: Compare the feature lists against your must-haves, then your nice-to-have list. Most solutions offer a clear breakdown of what's offered in each level or pricing tier.
Pricing structure & contract terms: Each tech approaches contracts differently, and they'll often offer multiple pricing levels. Pay attention to what triggers a price increase, the length of the contract period, and whether it automatically renews (if so, check if there's a negotiation period to make changes).
Support & training: Think about the technological maturity you defined; with a more tech-savvy team, a lower level of support might work, but with a more old-school group, you may want the solution to help you flatten the learning curve. Some include free support, others require you to purchase it (or pay for higher levels), while others have limits on how you can engage with their team (for example, by email only). Some sell upgrades for strategic consulting. Understand what you're entitled to, and what you actually need, before making any decisions.
Product development roadmap: Don't invest in technology that will soon go out of date. Take a look at its history — is the company committed to innovation? Have they consistently improved their product? Find out what you can about their roadmap to confirm there's a plan to evolve. Consolidation is common in martech, so look for technologies that work together natively (for example, Salesforce owns Pardot) and keep an eye out for signs that a tech may be close to merging with another tool.
Security / trustworthiness: Don't screw around with your cybersecurity. Make sure any technology you consider has made investments in securing their platform — and therefore your data. Look for things like two-factor authentication, built-in tools for GDPR compliance and a solid track record of security.
Step 3: Time for strategery
Once you've built the right martech stack, create a strategy for how you'll use it. This is the difference between success and failure. Here's what you need to sort out:
Define your sales and marketing goals. Make them specific and measurable, and don't make too many. They should include lead generation and conversion / revenue targets.
Decide on the data you need to measure these goals. This should include metrics on your website, leads, marketing activity, and sales activity.
Identify existing processes the technology will automate or replace. Map out the steps and data flows and audit for improvements. Document everything clearly (really, Future You will thank you).
Determine which new processes the technology lets you introduce. Map out how those work, who is involved, and what data flows from step to step. Again, document carefully.
Evaluate which technologies need to integrate. Map out the data flows and decide which will be the tool of record for each type of data. (And document, do I need to keep saying it?)
Choose internal owners for the tech, its rollout and use:

Champion / key stakeholder: selects the tool, negotiates contracts, plans and implements rollout, and promotes adoption
Internal processes & compliance: ensures that as processes evolve (new hires or departures, steps added or removed, etc.), the technology, data and workflows are up to date and compliant with regulations
Data maintenance: keeps your database clean, manages contact subscriptions/opt outs, monitors deliverability, cleans up bounces and bad email addresses, etc.
Dashboards & reporting: understands your goals and which data needs to be analyzed, knows how dashboards are built and what they mean, and manipulates and customizes reports
Technical / troubleshooting: ensures maintenance (i.e., updates are run) and that users have someone to turn to with issues; should be backed up by the technology's own support
This type of planning isn't for everyone. Many companies also struggle to fill all of the ownership roles listed above. A strategic agency fluent in martech can be a great resource and partner here. Typically, agencies help with setting strategy, mapping processes (such as architecting data flows), teaching best practices, reporting, onboarding and training, implementation, integrations and even day-to-day operations.