So you're traditionally a B2C marketer, but you've landed your first B2B marketing gig (go, you!) and are tasked with lead generation. Suddenly, you think – is the process the same for generating leads in the B2B landscape as it is for B2C? Well, yes and no.
According to Marketo, lead generation, "the marketing process of stimulating and capturing interest in a product or service for the purpose of developing a sales pipeline, allows companies to nurture targets until they're ready to buy." Fancy!
Okay, yes, the concept of capturing interest in a product or service resonates no matter whether you're talking to an individual consumer or a multi-billion-dollar business which is ultimately made up of a bunch of individual consumers working together through one or a few decision makers. However, your go-to Facebook and Instagram ads may not cut the mustard with such a specific audience.
Where are all the leads?
As a B2B marketer, the market is flush with products and services (from other B2B marketers) that promise to serve you up the best leads. Honestly, it can be hard to know where to start (Don't buy lists. Just don't buy lists, we beg you).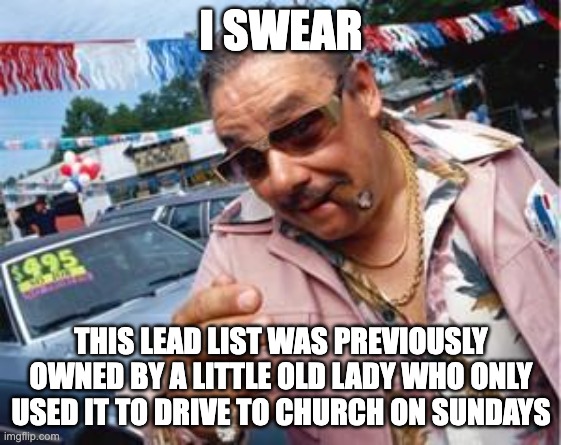 When considering places for B2B lead generation – and especially when it comes to social selling – LinkedIn is a natural channel to assess.
I know, I know, this is just what the internet needs – another article about using LinkedIn for B2B lead generation. But, just like the marketing 'Rule of Seven' says, it takes an average of seven interactions with your brand before purchase decisions – meaning, you may need to read seven different articles before this one, and a bunch of other tips, to make sense of it all and feel ready to put them into practice.
But before you start any lead generation campaign…
Do you know your buyer personas? This is a great first step. Build out buyer personas of your audience and know who you need to target, when, and with what message. The last thing you want is to spend your precious marketing dollars on a lead that ends up being completely the wrong person.
Do you have the right content? If you write it, they will come…? Well, not really. Create content that your audience finds useful! Write with a purpose and keep in mind the action you want your audience to take. Do research on the solutions your audience is looking for. A great place to start is with your own customer service or sales teams. Ask what their top questions are and build content around them.
Have you defined your lead stages? Unlike the B2C world where everyone is a customer with purchasing power, lead in the B2B world are more specific and need to be identified, qualified and nurtured (get your email marketing ready!). Before you start putting in the work to draw leads in, take a little time to understand and define your lead stages and roles of marketing and sales so you have a plan of action. Feeling stuck? Check out our article on sales & marketing alignment.
And the winner is…LinkedIn!
Okay, so once you know who you're talking to, what you want to tell them, what action you want them to take and how they will be walked through the rest of the sales funnel, it's time to decide where to actually find your audience. For B2B marketers, LinkedIn is a natural choice for both organic and paid campaigns. LinkedIn has over 740 million members and over 55 million companies registered – that's a lot of potential.
But what makes them stand out as a good choice for lead generation? According to LinkedIn, three areas set them apart as the channel for B2B lead generation:
Professional Data: Position, seniority, industry, location – these details help you reach the right people in the right way, and their users are voluntarily publishing exactly the kind of info you need to sell to them
Business Context: Users come to LinkedIn to research business topics and advance their careers, potentially putting them in a more receptive mindset for B2B messaging
News Feed Products: Ads on LinkedIn appear alongside content in the newsfeed for a seamless experience (okay, that's not too different from what other social platforms offer)
LinkedIn has also made the claim that their cost per lead is 28% lower than Google AdWords, which is a great stat to share with your boss when fighting…I mean, asking…for marketing budget.
Thinking about giving LinkedIn a go? Let's dive into a few specifics that will make lead generation a breeze:
Matched Audiences
LinkedIn offers three types of targeting with Matched Audiences: website retargeting, contact targeting and account targeting, with website retargeting and account targeting focusing the most on new leads.
Website Retargeting: Start in your own backyard! Serve ads to users on LinkedIn after they've visited your website (and therefore already know who you are)
Contact Targeting: You can upload a list of individual people (LinkedIn users) that you're looking to market to
Account Targeting: Upload a list of target companies to match against the 8+ million LinkedIn Pages – this is perfect for ABM
The great thing about this option is you can build on information that's already housed in your organization, and LinkedIn will take it to the next level by matching you with the right audience.
Lead Gen Forms
Running ads on LinkedIn is a great solution to reach a targeted audience at scale, but what do you want them to actually do once they click? Well, something that will let you capture the lead, of course! LinkedIn lets you add a call to action in the form of a button to message ads or sponsored content. This button will open a lead generation form. Brilliant! Here are the key advantages:
The form pre-populates with your target's LinkedIn info, so in just a few clicks the details are on the way. For the highest conversion rate, make things as easy as possible!
Leads are easily tracked in the LinkedIn Campaign Manager. You can measure metrics like form fill rate, cost per lead and number of leads, which are critical when it comes to determining success, allocating budget and planning for future campaigns.
Leads are super easy to download from the LinkedIn Campaign Manager, and if your CRM (such as HubSpot CRM or Salesforce), integrates with LinkedIn, the leads can flow directly.
Sales Navigator
Still looking for more leads? An upgrade to your LinkedIn account may be in order. LinkedIn Sales Navigator brings your lead gen to the next level, albeit at a small price. What can you expect to gain from it? Some of the best features at a glance are: automatic lead and account recommendations, integration of custom lists into your CRM and the ability to message prospects with InMail messages, even if you're not connected to the user. HubSpot offers a great overview of all the Sales Navigator features.
So if you're looking to use LinkedIn for B2B lead generation, this is a good starting point. Don't be intimidated by all of the various options to find leads in your industry. Start with a strong foundation – know your customer and where they spend their time, and know their pain points and how you can solve them, and the rest will fall into place. Happy (lead) hunting!